Donation to Orange Sky
Friday, December 31 2021
Constellation Chapter in NSW recently donated to Orange Sky.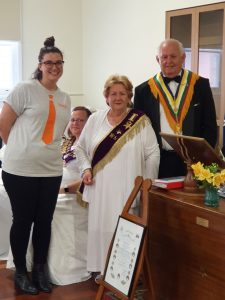 Orange Sky Australia is the world's first free mobile laundry service for people experiencing homelessness – an idea founded in a Brisbane garage by two 20-year-old mates, Nic Marchesi and Lucas Patchett.  In late 2014, the boys installed a couple of washing machines and dryers in the back of their old van and visited parks around Brisbane to wash and dry clothes for free. What started as an idea to improve hygiene standards and restore dignity to people doing it tough has evolved into something much bigger and more powerful.
From sitting down on our orange chairs and chatting with friends, we've learnt that although access to laundry and shower services is important, it's the conversation and regular connection that create the biggest impact in the community. Each week, all over Australia, thousands of volunteers help to positively connect our friends doing it tough by providing access to free laundry, warm showers and genuine, non-judgemental conversation. We always partner with service providers, such as food vans or drop-in centres, and make sure that we set up at locations where our friends feel most comfortable.
To date, Orange Sky has provided Australians doing it tough with over 1.9 million kilograms of free laundry, 20,000 showers and 330,000 hours of genuine and non-judgemental conversation across 36 service locations.  If you would like to know more, visit Orange Sky Australia | Positively Connecting Communities.