Welcome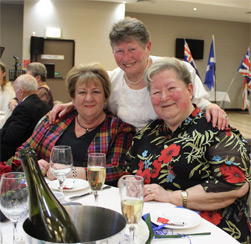 Be inspired, belong to a group of like minded friends. Give back to the community and enrich the lives of others.
The Order of the Eastern Star Australia is one of the largest worldwide organisations of people with shared beliefs and moral values. We are committed to sharing, learning and community service. We enrich our lives by helping the community and each other. We believe there is a higher purpose for all of us, for all of humanity.
We are a friendly, welcoming and positive organisation. We believe in helping others, being passionate about what we do and most importantly, having fun.
**IMPORTANT NOTICES**
With a heavy heart, The UGCA has announced that the Eighteenth Biennial Session scheduled for June 2021 in Sydney, will be postponed for 12 months until 8th to 12th June 2022.
This difficult decision has been made after taking into account the various directives from Federal and State Government Organisations in relation to COVID-19.  The health and wellbeing of our members and those that come across the sea for this event remains paramount in our minds.
While we all miss each other terribly, please stay safe and healthy and communicate with each other in the best way possible until we can all meet again.
Members in Australia can access the full announcement from the members area.
News
Did you miss a News Item?