Origins
The Order of the Eastern Star as we know it today, was founded by Dr. Robert Morris in the mid 1800's. As a Master Mason, Dr. Morris had the idea that it would be wonderful to have a way for female relatives of Master Masons to share the benefits of knowledge and self-improvement that Freemasonry made available to men, and to have a place in the Masonic Family that would allow men and women to participate together.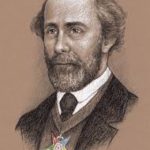 Dr. Morris and his wife Charlotte worked on this idea of a Masonic Fraternal Order for Master Masons and their female relatives for many years. In 1850, Dr. Morris selected Biblical heroines who each had a story that reminded members of the lessons and values of the Order. He established the poetry around each of the heroines, the colours and emblems appropriate to each, and how they connect to the Masonic themes. The first ceremonial book for the Order was compiled and published in 1865 under the title of "The Rosary of the Eastern Star."
In 1866, Dr. Morris became associated with Mr. Robert Macoy, who took over the planning and organisation of the Order of the Eastern Star. Mr Macoy was a prominent Freemason in the United States, and in 1867/1868, Mr. Macoy compiled and published a Ritual using Dr. Morris' Rosary as a guide. This was the beginning of the international organisation.  The Ritual is used with little modification to this day across the world. Mr Macoy is recognised as being instrumental in founding the Order of the Amaranth and the creation of Chapters of the Order of the Eastern Star.  He also founded what could be the largest Masonic publishing, regalia and supply house in the United States which is active to this day – Macoy Publishing & Masonic Supply Company.
From the work of both Dr. Morris and Mr. Macoy, the Order began to flourish, with its aims and purpose of promoting the welfare and wellbeing of others, particularly those of the Widow and Orphan, and those less fortunate.
For more details about our Order, please read THIS.