UGCA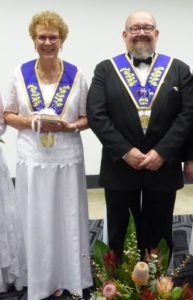 The United Grand Chapter of Australia (UGCA) was granted autonomy by The Supreme Grand Chapter of Scotland from 30th April 1985 and was instituted on 8th June 1985.  It has supreme and exclusive jurisdiction over all Grand Chapters, District Grand Committees and Chapters within the confines of the States and Territories of Australia and its dependencies.
The UGCA is represented by 22 Office-bearers and supported by a valued team of assistants and 'Emeritus' Office-bearers.  The term of office is 2 years with the Annual Meeting and Installation of Office-bearers held over a number of days within the State/Territory of the incoming Most Worthy Grand Matron.
The current term of office for the UGCA started in June 2017. Click here to view a listing of the current board of Worthy Grand Office-bearers for 2017 – 2019.
We honour those Emeritus Worthy Grand Office-bearers that have provided dedicated service to particular duties in the UGCA, click here to view a listing.
We also pay tribute and heart felt thanks to those Past Most Worthy Grand Matrons and Past Most Worthy Grand Patrons that have led the UGCA over the years, click here to view a listing.
A Future Member?
United Grand Chapter attended the Nepean Chapter on 23 July 14. When they retired from the Chapter room, they were met by Eloise, the 5 year old daughter of the Marshal of Nepean Chapter. Eloise had been patiently waiting in the Ladies Lounge of the South Eastern Masonic Centre while her mother attended Chapter. When her mother retired from the Chapter room Eloise excitedly took the baton. Not to miss the opportunity, the MWGM at the time – Sister Pamela Sangwell, suggested Eloise might like to also wear the regalia of office and escort her back into the chapter room for photographs. Note the night attire and she's carrying her pink Princess Barbie bag.  She was so excited and joined us for supper. A future member? We'll see in 13 years time!
Grand Representatives
The Grand Representative program is designed to promote and foster fraternal international relationships between members. Representatives are appointed by Most Worthy Grand Matron to a particular overseas jurisdiction who in turn, appoint a member from their Grand Chapter. Together these members form a lasting friendship – sharing their ideas and experiences of their respective OES journeys.
Any member of the Order in Australia can apply to become a Grand Representative by completing details of their OES history on an application form (available in the Members only area) and lodging it with the Worthy Grand Secretary.
Present & Past Grand Representatives Association

The Present and Past Grand Representatives Association of Australia was formed in 1988 and it's aims and objectives are "to promote, develop and foster a continuing interest of those who have been appointed as Grand Representatives by exchange of ideas beneficial to Grand Representatives in particular and the Order of the Eastern Star in general".
Grand Representatives can apply to join this association for a small fee paid each biennium by completing an application form (available from the members only area).  This entitles them to attend Association meetings and luncheons that are organised from time to time.  Membership forms and minutes of recent meetings are available from the Members only area.
17th Biennial Session of the United Grand Chapter of Australia
The 17th Biennial Session will be held in June 2019 in Adelaide, South Australia.
More details to follow closer to the date.